This interesting route called
Liberation Route Polish liberators in 1944
takes you to 12 locations in the villages Hooge and Lage Zwaluwe. At each location is a sign with the text what has happened there during the Second World War.
The route is about 12 kilometres (7,5 miles) long and is easy to follow by bike. The route starts in the hamlet Helkant and ends in the village of Lage Zwaluwe, along the route are plenty of other sights to be found in these typical Dutch towns, including several World War II related sites, is you like, you can search for more places here on our website.
Hooge and Lage Zwaluwe were, like several other villages in the area liberated by the 1st Polish Armoured Division in October 1944.
1st Polish Armoured Division
In 1942 the 1st Polish Armoured Division was composed in England. This division was manned by Polish men an Polish emmigrants from all over the world. The Polish forces started in France. In mid-September they reached Holland, first they liberated Terneuzen, Axel en Hulst. The Polish forces went to Breda, here they liberated several villages at the end of September 1944, the Polish fight went pretty good without big losses. On October 31th this came to an ending, there were big losses north of Breda. The Polish found a way out by going to Oosterhout. Here they received backup from the Prinses Irene Brigade, the American and British forces. With this backup the 1st Polish Armoured Division made a counterattack that liberated the village Made on October 4th. After this liberation a lot of villages in the area were liberated by the Polish forces.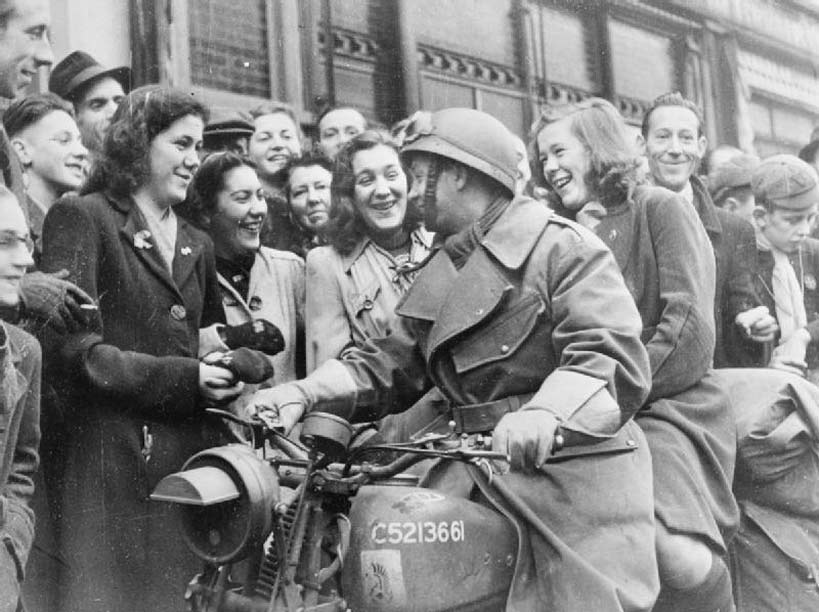 © IWM (KY 44011)
1st Polish Armoured Division in the city Breda, approx. 20 km (12,5 miles) from Hooge Zwaluwe