D-Day, 6 June, 1944, a most important date where the liberation of Europe is concerned. On this day the largest amphibious landing in history took place on the continent. During Operation Overlord allied soldiers set foot on French territory. The target was breaking through Hitler's Atlantikwall. By following this route you will pay a one-day-visit to the most important places of interest on Juno, Gold and Omaha beach on D-Day.
Juno Beach
Juno Beach was in the middle of the three British/Canadian invasion beaches which were attacked by the 2nd British Army, commanded by General Sir Miles Dempsey. Seen from the allied point of view the beach bordered on its right hand flank on Gold Beach and Sword Beach was to its left. It covered 7 kilometers of coastline between Graye-sur-Mer and St.Aubin-sur-Mer, and was split in the middle by the river Seulles which flows into the sea here.
Gold Beach
Gold Beach was in the middle of the five invasion beaches and the most westerly of the British/Canadian beaches which would be attacked by the 2nd British Army, commanded by General Sir Miles Dempsey. The German defenses on Gold Beach were often placed in the holiday houses which were spread over the coastal area. In 1943 a powerful coastal battery had been constructed on the cliffs near Longues-sur-Mer, between Gold and Omaha.
Omaha Beach
The American troops that landed on D-Day did this on the two beaches situated to the far right hand side, seen from the allied point of view, called Utah and Omaha. Utah was the far right hand beach, left of it was Omaha Beach and Pointe du Hoc was situated in between those two American landing beaches. Omaha, the place after which Omaha Beach was named, is a little town at the river Missouri in Nebraska in the USA. On this beach the first landing wave would be existing of 2 divisions, the 1st and the 29th Infantry Division.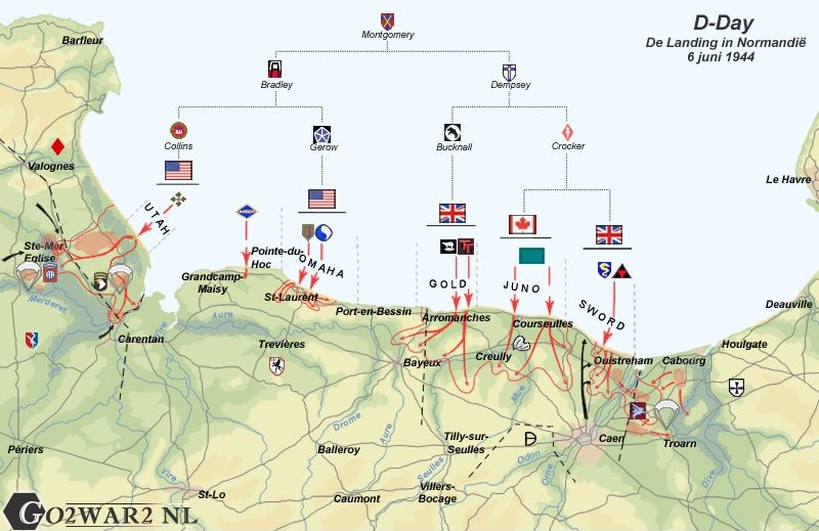 Overview of the landing locations on D-Day. Source: Peter Boellaard.